"Movies are the most total and encompassing art form we have." - Pauline Kael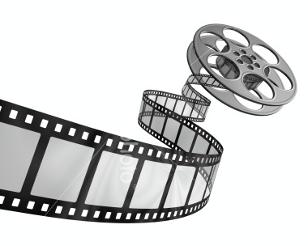 Jeanne Moreau (1928-2017)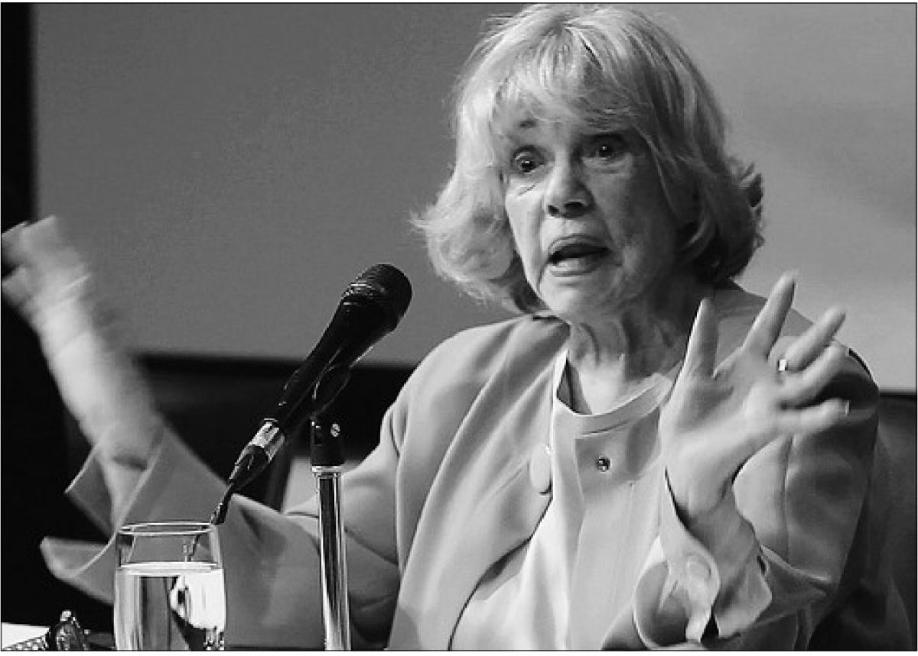 Photo: Pierre Obendrauf, The Gazette
Hearing the news of the death of Jeanne Moreau, I remembered the time, just a few years ago, when she came to Montreal and – God knows why – ordered photographers to stay away. It was June 2011 and the 83-year-old French screen legend was in town with singer Étienne Daho to perform Jean Genet's 1942 poem "Le condamné à mort" at the Francofolies. Before the show they held a news conference, and Moreau was quite clear: No cameras allowed, except ... TV cameras. In the end, The Gazette published a still from its video footage of the event, the only media outlet to do so. Apparently, Moreau and her promoters were very upset when they saw it , but hey, c'est le tourbillon de la vie. You can read my write-up below, then listen to the audio (in French) of the half-hour presser, starting with the organizer's reminder: "Aucune photo!" Under that is the 45-rpm single that Moreau cut in 1961 for Truffaut's Jules et Jim. "On s'est perdu de vue ..."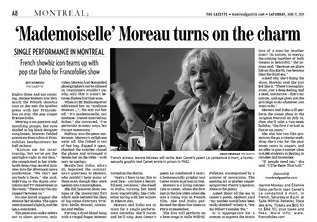 Jeanne Moreau & Etienne Daho.mp3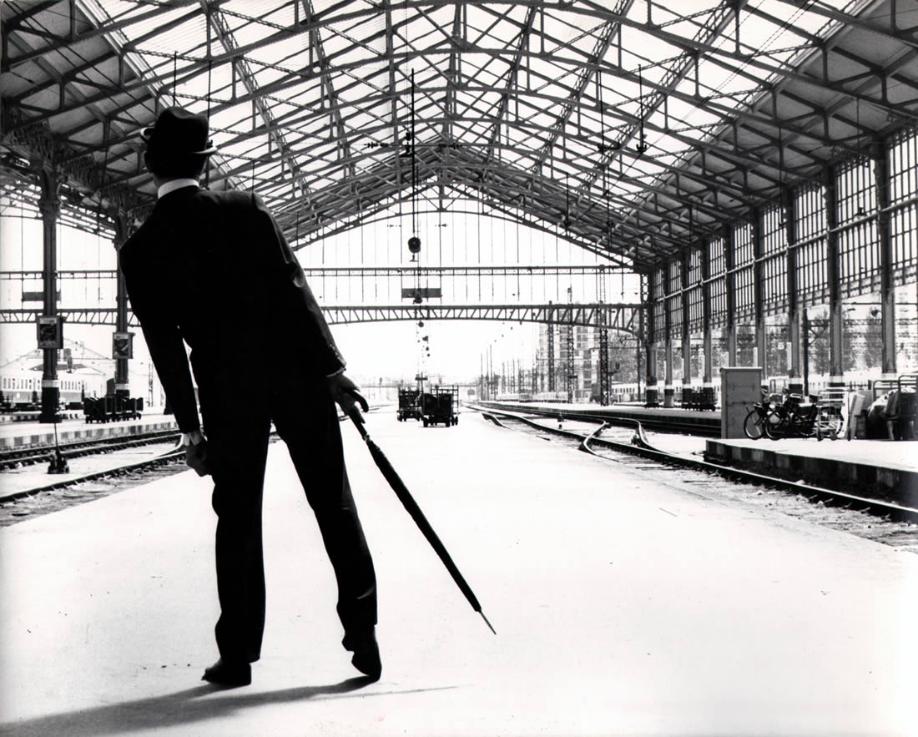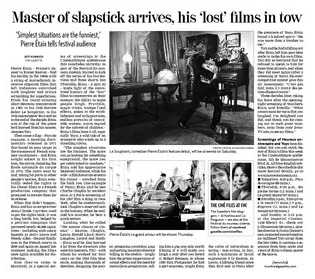 Pierre Étaix Q&A (2010).mp3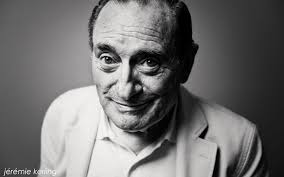 In hommage to the comic genius of Pierre Étaix, "France's Buster Keaton," I'm posting a recording I made of the Q&A he gave at a career retrospective in Montreal in 2010. Venue: Cinémathèque québécoise. Date: October 14. Duration: 40 minutes. Language: French. My advance write-up is on the left. Amusez-vous!
Oscar hopefuls to watch over the holidays
It's Christmas, and you probably have some time off to go see a few movies. Why not get a jump on the 2016 Academy Awards and check out some likely nominees? I've seen five surefire contenders for the top Oscars, plus one deservedly also-ran. (Nominations will be announced Jan. 14; the ceremony itself will air Feb. 28.) My top picks are Spotlight (Best Picture), Brooklyn (Best Actress) and Son of Saul (Best Foreign-Language Film); my biggest disappointments were Macbeth (Best Adapted Screenplay), The Hateful Eight (Best Original Screenplay) and Arabian Nights (the also-ran). My advice: See them in that order, and if you have to stop at three, that's fine. Spotlight, the true story of a Boston newspaper investigation of pedophile priests, is the most quietly intense, and will evoke nostalgia for a time when reporters and editors had "pre-Internet brains" (to borrow Douglas Coupland's expression). Brooklyn, partly filmed in Old Montreal, is gorgeous to look at, a romantic drama about a young Irish immigrant (Saoirse Ronan) who's torn between the Old and New Worlds; I saw it twice because I liked how it made me feel: warm-hearted, hopeful. Son of Saul is an unusual and controversial Holocaust "thriller" that's as unrelenting, nightmarish and real as its subject, the "Sonderkommando" prisoners who were forced to work the gas chambers and crematoria at Auschwitz. Macbeth, starring Michael Fassbender and Marion Cotillard, and The Hateful Eight, a Western by Quentin Tarantino, are too stylized and self-aware for my taste; the former turns Shakespeare's tragedy into a cartoon book of blood-red skies, in-your-face witches and sotto-voce villains, while the latter is an empty exercise in violence played for laughs, rather obscene today with the U.S. in the grips of an epidemic of mass shootings. Lastly, what little I saw of Arabian Nights, a six-hour-plus trilogy by Portuguese director Miguel Gomes that was the talk of Cannes last May, left me alternately bored and irritated. I was underwhelmed by the first instalment, The Restless One, with its faux documentary conceits, Euro anti-austerity polemics and penis jokes; the second instalment, The Desolate One, was Portugal's submission to the Oscars in the foreign-film category, is apparently the most accessible, and yet didn't make the Academy's short list; the third instalment is called The Enchanted One.
Quebec director Denis Villeneuve is juggling three big projects, but has parted ways with novelist Russell Banks
A sampling of what screened over the long winter of 2014-15
Jack O'Connell (Unbroken) stars as a British rookie soldier on the run behind Roman Catholic lines in Belfast in 1971. He's chased door to door and street to street by IRA assassins and has to rely on his wits to stay alive. He also learns to his peril that the kindness of strangers isn't always what it seems. '71 is a riveting 99 minutes bookended by an intriguing but undeveloped storyline about Jack's relationship with his young son. I watched this movie a couple of days after screening the new DVD of the French teen film Les combattants, which is far lighter in tone but asks the same question: What does survival mean?
Timbuktu (France/Mauritania, 2014)
Nominated for an Oscar, this movie couldn't be more timely. It's a French-African film about the rise of Muslim fundamentalism and how, step by repressive step, it affects the peace-loving people of a small rural city. That place is Timbuktu, in the west African nation of Mali. Writer-director Abderrahmane Sissako grew up in Mali and shot his previous feature, Bamako (2006), there, but this time chose a town in neighbouring Mauritania, the land of his birth, to stand in for the real Timbuktu. We're soon absorbed by the slowness of life there, a tranquility that is all the more evident when it gets rudely disrupted by the jihadists, many of them foreign, who come to enforce their religious law in all its stringency and hypocrisy.
Into the Woods (U.S., 2014)
Well, this is a delight. I saw the first Broadway production of Into the Woods back in 1988, starring that little fireball Bernadette Peters as the nasty witch and Joanna Gleason as the baker's wife. Now the fairy-tale musical has finally made it to the big screen. It's written by the very people responsible for the original (James Lapine , screenplay, and Stephen Sondheim, score). It has some equally formidable stars, Meryl Streep and Emily Blunt (along with Anna Kendrick, Chris Pine and Johnny Depp, among others). And although it's been modified to suit the family-friendly ethos of the producers (Disney), the film version preserves much of the essence of the stage version, and runs along breathlessly with no intermission dividing the very different halves: 1) classic fairy tales kept separate, 2) those same fairy tales blended together, with unforeseen results). All in all, it's entertaining, tuneful, first-class all the way – and definitely hummable.
A Girl Walks Home Alone at Night (U.S., 2014)
This picture had me hooked by the title alone; it could be the opening line of a joke or a horror story. As it turns out, Ana Lily Amirpour's debut feature is a bit of both: a wry take on the vampire genre that was made in black-and-white, brings to mind the work of Jim Jarmusch (especially his latest, Only Lovers Left Alive), and sets the action in (fictional) present-day Iran (shot in southern California, but you'd never know it.) Sheila Vand (Argo) has the title role as a young woman out for blood on the lonely streets of Bad City. Creepy, but fun.
How's this for a story line: A Ukrainian Jewish couple emigrate from the Soviet Union, settle in Chicago and raise a son. The son grows up, gets into the movie business, produces a couple of well-received documentaries, then goes solo with a documentary of his own, about the travails (and eventual defections and emigration) of Soviet hockey players under the Communist system. And to top it all, the film opens the Moscow International Film Festival. Call that a full circle? You bet. For Gabe Polsky, chronicling the ups and downs and Cold War gamemanship of the Red Army team was, well, kind of personal. And it shows. This film is entertaining, informative, absorbing, exciting, and funny – and you don't have to be a sports fan to appreciate it. One gripe: It ignores the great Canada-USSR series that kept us glued to the TV in this country in the 1970s.
Tokyo Fiancée (France/Canada/Belgium, 2014)
Unlike most foreigners, Amélie (Pauline Étienne) doesn't suffer culture shock when she moves to Japan. That's because, although she's a French-speaking Belgian, she isn't really a foreigner. She was actually born in Japan, spent her first five years there, and now, at 20, is moving back. She's in love with the place – with its language, its customs, its food, its city streets, its parks, and, eventually, with one of its native-born sons. Rinri (Taichi Inoue) is a shy but attractive (and rich) young man who hires Amélie to be his tutor. Theirs is a gentle relationship, even in its intimacy, but there's a crisis brewing, both in Amélie's heart and in Japan itself, culminating in the 2011 disaster at the Fukishima nuclear power plant. A co-production between Belgium, France and Canada, this is comedy without a happy ending, unless you think self-awareness makes you happy.
Putin's Russia must be a scary place. This Oscar-nominated drama doesn't ever mention the president by name, only once shows his official portrait hanging on the wall, yet it's as if the stench that permeates his leadership is everywhere. The irony is that, in writing this story of a feisty mechanic (Alexei Serebriakov) who rebels against a corrupt mayor and a two-faced priest bent on expropriating his home on the Volga in central Russia, director Andrey Zvyagintsev (The Return) ripped the idea from the headlines of an American tragedy that played out a decade ago in Colorado. So before you get all sanctimonious about mean old Russia, the filmmaker seems to be saying, take a close look around you and ask: Are things all that different here?
Diplomacy (France/Germany, 2014)
Much like Roman Polanski did successfully three years ago with the dueling-parents drama Carnage, Volker Schlöndorff (The Tin Drum) has taken a stage play about a battle of wills and made it into a gripping movie, this one based on a true story. André Dussollier (Mélo) stars as Swedish consul Raoul Nordling, who in Nazi-occupied Paris on the night and morning of Aug. 24 and 25, 1944 tries to convince German general Dietrich von Choltitz (Niels Arestrup), not to carry out Hitler's order to dynamite the City of Light to the ground before the Allied advance. The two leads are superb, the staging is never stagey (even though the action is mostly kept to one room, with occasional forays outside) and the script (co-written by Schlöndorff and Cyril Gely, adapting his own play) builds tension as it also builds our sympathy for the characters. At 84 minutes, the film is also not too long, and there's a nice twist at the end. If you're a fan of well-crafted movies about the end of the Second World War like Downfall or I Was Nineteen, or of plays about opposing personalities and ideologies like Copenhagen and A Walk in the Woods, you'll love Diplomacy.
Love is Strange (U.S., 2014)
I don't know where to start with Love is Strange. By saying that it moved me? That its Chopin score sounds sublime? That it's not just another gay movie, not just another old-folks movie? I know one thing: The trailer merely hints at the film's depths of feeling. A comedy, it isn't, though it has comic elements. A drama, it certainly is, but in a light-hearted way that leaves way for humour. Above all, I was struck by the picture's meditative quality, its observational power, too. Here we have sophisticated city people behaving with civility towards one another – what a concept. After nearly four decades together, New York City painter Ben (John Lithgow) and music teacher George (Alfred Molina) decide to get married, but this gets George in trouble with the Catholic school where he works; he's fired, and the couple have to move out of their cosy apartment and stay, separately, with friends until they can find a new place. That takes longer than anyone expects, and the houseguests soon wear out their welcome – and the feeling becomes mutual. Co-writer-director Ira Sachs (Keep the Lights On, Forty Shades of Blue) steers well clear of situation comedy and instead offers up a nicely shaded exploration of loyalty and friendship, forgiveness and legacy, looking at the ties that bind the aged, the middle-aged and the up-and-coming. Marisa Tomei co-stars as a struggling novelist whose intensely private teenage son (Charlie Tahan) gets a lesson in acceptance when "uncle" Ben comes to stay. I don't think I've seen a more quietly passionate and humanistic picture all year than this one. Highly recommended.
What I watched on my summer vacation
I don't know about you, but I don't watch as many movies in the summer. What with family vacations and long weekends at the cottage and more than enough to eyeball "live" while walking around town, there doesn't seem much point in slouching down in the couch or theatre seat and spending two hours staring at a screen. At any rate, this year I didn't feel nearly the same urge to see a flick that I did the rest of the year, when cold winter nights kept me in and mornings held the allure of press screenings by distributors. Still, in June, July and August the mailman kept coming and so did the invites to previews, and so it was inevitable that I'd see at least a few movies worth writing up. Here are the highlights of the summer of 2014.
The Trip to Italy (Britain, 2014)
Magic in the Moonlight (U.S., 2014)
Steve Coogan and Rob Brydon return for their sequel to The Trip (2000), this time driving through scenic Italy and trading impressions (and impersonations). Funny mid-life banter, but the Italians themselves are mere background scenery.
Woody Allen in vintage mode again. A period comedy starring Colin Firth and Emma Stone that's set in southern France and like the magic it portrays is simply unbelievable. Bit of a bore, really. Then again, the scenery is lovely.
Richard Linklater should be lauded for his film's concept and execution (a 12-year shoot), but the mise-en-scène is pedestrian, the themes are hackneyed and the script barely rises above banal. Main problem: The boy isn't all that interesting.
He was prolific and popular, but who really was Roger Ebert? This documentary by Steve James (Hoop Dreams) charts the rise and fall (to cancer, in 2013) of the longtime film critic of the Chicago Sun-Times. Candid, brainy, Inspiring.
Born Yesterday (U.S., 1950)
Woody Allen's 1940s period-piece about the popular medium that was (and still is) radio is set in Brooklyn and makes a nice companion to his new film, Magic in the Moonlight, which is set in the 1920s in France and hit theatres in August. In them, you can see the same themes Allen has been mining for ages – showbiz, family, magic, music – and also the solid production values he brings to each movie. Available now on Blu-ray from the niche label Twilight Time, limited to 3,000 copies (and as usual with that distributor, the film comes with an optional sound-and-effects track (for all those vintage tunes), plus a trailer.
Another Twilight Time release, this resurrects the lovely Judy Holliday in an Oscar-winning turn as a millionaire's moll who turns out not to be such a dumb blond after all. Broderick Crawford is the sugar daddy who thinks he can corrupt politicians in Washington, William Holden is the journalist he enlists to help him get his fiancée some education, and Holliday, well, she steals the show. The oblique indictment of McCarthy-era anti-intellectualism is even more relevant in our digitaldumbing-down age. The Blu-ray has two trailers and the option of an isolated soundtrack.
Resurrected (Britain, 1989)
The indie debut of Paul Greengrass (The Bourne Ultimatum) tells the rather bleak tale of a British soldier (David Thewlis, who'd go on to star in Naked) and the post-traumatic stress disorder he suffers after returning home from the Falklands War against Argentina. There was some question he deserted his mates in battle there, and he pays dearly for it. Strong performances and assured dialogue (by Martin Allen, based on a true story) make this above-average fare. Extras on the Twilight Time disc include interviews with director and star and, as usual, the option of an isolated soundtrack.
One of the great anti-war documentaries, Peter Davis's Hearts and Minds came out in 1974 while the wounds of Vietnam were still fresh. Davis looks at war from both sides of American public opinion, as well as through the perpetrators themselves, both in the U.S. and in Vietnam. Criterion's dual-format edition (one Blu-ray and two DVDs) is bulky but thankfully the label has seen the error of the format and has started phasing it out. Besides a director's commentary track, this edition includes two hours of unused footage, as well as a thick booklet – 44 pages – of essays and stills.
Too Late Blues (U.S., 1961)
Faust: A German Folktale (Germany, 1926)
'50s crooner Bobby Darin stars alongside sultry Stella Stevens in this early John Cassavetes drama. Darin plays an idealisticjazz band leader who hopes to make a hit record without selling out. Stevens is a singer unsure of her talents at the mic but very sure of her talents in bed. The Blu-ray from Britain's Eureka! Masters of Cinema label is coded region-B (so won't play on standard North American players) and comes with a video essay by critic David Cairns and a 52-page booklet. Try pairing this with Pete Kelly's Blues, which is set in the '20s and stars Jack Webb, Janet Leigh and the great Peggy Lee; it's out on DVD from Warner.
I was moved by a live reading of Goethe's Faust at Montreal's Segal Centre in 2013, and was again by this classic silent version, new to Blu-ray. The movie – which blends Goethe, Gounod and Marlowe into a wondrous whole – was German director F.W. Murnau's final feature film, released in 1926 with Emil Jannings in the role of Faust's devil bargainer, Mephisto. Another carefully curated release in Eureka!'s Masters of Cinema series, this Region-B BD/DVD has two restored versions of the film (domestic and export), three scores, three documentaries, a commentary track and a 40-page illustrated booklet.
And in cinemas last spring ...
Million Dollar Arm (U.S., 2014)
I usually like baseball movies. I grew up with the sport (and my brothers' obsession with the board game Strat-O-Matic Baseball) and over the years the movies I've seen have covered a lot of ground. Field of Dreams had soul; Moneyball had statistics; and 42, though weak, at least had some local colour with Jackie Robinson and his first semi-pro team, the Montreal Royals. I also enjoyed the only cricket movie I ever saw, a fine British-Jamaican family drama called Wondrous Oblivion. So it wasn't a seventh-inning stretch to assume I'd like Million Dollar Arm, the new Disney flick that combines both baseball and cricket in one international feel-good sports story. And I did, with some reservations. Jon Hamm, of Mad Men fame, was the main draw, along with female lead Lake Bell, the star (and writer/director/co-producer) of last year's indie sleeper In a World, a wry comedy about Hollywood's little-known voiceover industry (ask for it at the video store). Here, Hamm is an L.A. sports agent named J.B. Bernstein who lives in an obscenely big house, and Bell is an attractive nurse who's his tenant in the poolside cabana out back. Their romance (gently handled) is a backdrop to the main story (more predictable) of sports celebrity described in the movie's title: Down on his luck, J.B. goes to India, land of cricket, and holds a travelling talent contest in search of a promising young thrower. Once found, he can pitch the kid to Major League Baseball back home as the sport's next big star and take a nice cut once the papers are signed. As it happens, J.B. comes back with two, not one, and sure enough (spoiler ahead) both overcome their culture shock and the skeptics' low expectations and find their place in the majors. It's a true story, as the run-on news clips in the closing credits make clear. Hamm plays J.B. as a sort of Don Draper Lite, without the alcoholic dark core and endless smoking (there's none at all, this being a Disney film), and Bell is her usual quirky charming self, all gleaming teeth and curveball wit. Co-stars Aasif Mandvi (you know him from Jon Stewart's The Daily Show) and Alan Arkin (as a gruff old baseball scout) round out the cast along with Bill Paxton (excellent, as a pro-league pitching coach) and handsome Indian actors Suraj Sharma (Life of Pi) and Madhur Mittal (Slumdog Millionaire) as the two young pitchers. It's mostly upbeat and positive, and the scenes in India leave you wanting to see more of that chaotic yet beautiful country. Take the kids; this one's rated G for general audiences.
Anticosti: La chasse au pétrole extrême (Quebec, 2014)
Over two decades, Dominic Champagne has made a name for himself as a successful Quebec playwright and writer-director of TV specials and theatrical spectacles like Love, the Cirque du Soleil's ode to the Beatles. He's also a staunch nationalist and environmentalist, a man who organized Earth Day here two years ago and got 300,000 people to take to the streets in protest against mining and oil-and-gas drilling in Quebec's nature preserves. One of those preserves is Anticosti Island, a deer hunters' mecca in the Gulf of St. Lawrence where the Quebec government is now spending millions to probe for large reserves of oil that could eventually be "fracked" out of the underground rock with water and chemicals. In his first film, Champagne, who's 50, takes his son on a long tour of the massive forested island to meet the few people who live there and find out what's at stake if "black gold" becomes the new reality. Produced with Pierre-Étienne Lessard, the 81-minute movie is being billed as un documentaire choc, a damning portrait of an industry whose rapaciousness Champagne also exposes by travelling to the oil sands of Alberta and the frackers' paradise of North Dakota. But the film is no mere political pamphlet of the eco-left; it's a disarmingly personal and beautifully filmed appreciation of a place that's big on the map yet barely registers in the thoughts of the average Quebecer. With the movie's theatrical release now, soon to be followed by a telecast on Télé-Québec and online streaming, that ignorance should disappear. (There's no English version in sight, however, which is too bad.) I was at the press preview, and afterwards witnessed a raucous debate in the aisles between Champagne, former Quebec premier Bernard Landry and La Presse columnist Nathalie Petrowski; you can hear an excerpt on the Voir website.
Chinese Puzzle (France, 2013)
In 2011 French director Cédric Klapisch was in New York writing the screenplay for his new movie Chinese Puzzle, the third installment in his wildly popular social comedy series starring Romain Duris, Audrey Tautou, Cécile de France and Kelly Reilly that began in 2002 with L'Auberge espagnole (Pot Luck) and continued in 2005 with Russian Dolls. Interviewing him at the time as he prepared to come to Montreal for a mini-retrospective of his career at Cinemania, the annual festival of French films subtitled in English, I wondered what keeps drawing the 50-year-old filmmaker back to the themes of friendship, family and love in foreign climes. "It's a chance to talk about how time passes," he said of his new film. "And it's a chance to get back to the style of L'Auberge espagnole ... almost like a comic strip, with off-camera narration and an off-centre approach to reality." Mission accomplished: At the film's Quebec premiere April 17 at Montreal's Cinéma Quartier Latin, fans cheered and clapped as the director strode to the red carpet, then applauded again with gusto two hours later as the credits rolled. Set in New York's Chinatown, Chinese Puzzle plunges back into the complicated life of its protagonist, Xavier (Duris), a globetrotting writer now juggling a divorce, immigration to America, joint custody of his two young kids, and the start of a new novel. As inspiration, he summons the ghosts of Hegel and other fathers of philosophy who magically appear to offer advice. "It's a strange way to write, because you switch from reality to fantasy very quickly," Klapisch told me in English beforehand, describing how Chinese Puzzle came together on paper. It's a rollicking, wry comedy, full of wit and invention (and naturally, since this is a French film, a healthy dose of casual sex). Millions went to see the first and second films in the trilogy, over 1.5 million in France have seen the new one since it opened in December, and now Klapisch hopes the series' renewed success will give him momentum for two new projects: a feature film he's now writing and a six-part comedy series he'll do for French TV, a first in that medium for the director. "It's a new adventure for me."
Like Father, Like Son (Japan, 2013)
Babies switched at birth might seem a rather shopworn idea for a movie. It has been memorably done in such foreign films as La vie est un long fleuve tranquille (France, 1988) and been used as a plot device in innumerable TV movies and sitcoms and soap operas. Now, from Japanese writer-director like Hirokazu Koreeda (Still Walking, I Wish) , comes Like Father, Like Son, an intimate, understated drama that explores more deeply than any other movie of its kind just how shattering the revelation of mistaken paternity can be. Winner of a raft of Japanese film prizes and a jury prize last year at Cannes (as well as the people's choice award at Vancouver), it stars Masaharu Fukuyama as Ryota, a successful young architect who discovers his 6-year-old son is not really his own; a mix-up in the maternity ward at the hospital sent his real son home with another, much less privileged family. Ryota and his wife eventually meet the other couple to set things right, but quickly find it's impossible to break so brutally with the past. Will their marriage survive? Will the two boys become friends? Will the two couples break down class barriers and reconcile? The answers lie not only in the progression of the plot but in the pregnant pauses, restrained emotions and unspoken interior monologues of the protagonists. This is Ozu for the 21st century: brilliant, poignant, real. This is what it's like, as the Japanese title says, "to be a father after all."
Gold (Germany/Canada, 2013)
Bethlehem (Israel/Germany/Belgium,2013)
Pacing and plot: It's hard to get both right, and two new foreign films showing this week in Montreal illustrate when it works and when it doesn't. Bethlehem is a fast-moving, tense, hyper-realistic drama about a Palestinian teenager recruited by Shin Bet to spy on his terrorist brother. Gold is a plodding, uneventful Western set in British Columbia and the Yukon during the Klondike years whose novelty is it's mostly in German. The actors in the Israeli film don't seem to be acting; the Germans (including star Nina Hoss) are characters in search of an author. Bethlehem has been described as HBO's The Wire set in the West Bank: complex, informative, real. Gold has been compared unfavourably to Meek's Cutoff: a journey across a wild frontier that would be forbidding if it weren't so picturesque. The Israeli film was a hit at home, scooped up a best-film prize at Venice and was entered in competition at the Oscars; the German one screened at Vancouver last fall and got its director a nod at Berlin.
Bardot, la méprise (France, 2013)
"You make me think of Marilyn Monroe," filmmaker David Teboul says in his narration of Bardot, la méprise, a love letter to the rebellious sex bomb of the 1950s and '60s that the French called "BB." The 90-minute documentary was done without the reclusive star's total cooperation: Bardot granted access to her homes and family archives and allowed excerpts of her autobiography to be read, but would not appear on camera nor be interviewed. The TV movie aired last November on ARTE and now comes to FIFA, the annual Montreal fest of films on art; if you missed it last Saturday you can still catch it this Sunday afternoon, at the Cinémathèque. Expect to be surprised by the depth and candour of this quiet, melancholic and ultimately sympathetic portrait of a woman who is better known today for her outspoken campaigns for animal rights than for her rather sketchy screen legacy. I had pretty much written Bardot off before seeing this; now I see that her story behind the camera – especially her unhappy bourgeois childhood and her intense love affairs with Vadim, Trintignant, Gainsbourg, Sami Frey and others – was as fascinating as the one she projected. "These images tear me apart because the play-acting is sincere," the filmmaker says of BB's public persona. Curiously, however, there's no mention of her association since the 1990s with Jean-Marie Le Pen and his daughter, Marine, and France's far-right. Maybe that would have broken the spell.