Movies from East Germany: The DEFA Collection

In the history of world cinema, who remembers the movies of the old East Germany? Why should we? After all, in the "workers' paradise" of the German Democratic Republic (1949-1990), a lot of horrible things got made: Trabant cars, the Stasi secret police, the career of Erich Honecker, and so much more.
It might come as a surprise, then – I know it did to me, after my first exposure 20 years ago – that a lot of very good movies came out of East Germany, some of them as strong as the best that other East Bloc countries, especially Poland and Czechoslovakia, produced in that era. Naturally, only state-sanctioned films made the cut, but the reality of official censorship only heightened some filmmakers' approach to their art, sparking creativity in the face of adversity.
In East Germany, the pictures of the Communist era have a catchy name: DEFA films. That's an acronym for Deutsche Film-Aktiengesellschaft – in English, German Film Stock Company. For over four decades, DEFA was the country's official state film studio – actually, studios, because the name was a catch-all for a wide range of production houses that made dramas and comedies, animations, documentaries, war movies, science-fiction movies – even Westerns. And while a lot of effort was devoted to propaganda (anti-fascist, anti-capitalist, anti-West), the results weren't always what you'd expect. Freed from commercial constraints, writers and directors with vision and imagination got their message across in ways that are still highly watchable today.
I can especially remember how struck I was by the intensity and stylistic freedom of the DEFA movies about World War II: The Murderers Are Among Us, The Gleiwitz Case, I Was Nineteen. Later, I appreciated social dramas like The Rabbit is Me and Her Third (in which I recognized actor Armin Mueller-Stahl, now a familiar face in the West for his Oscar-nominated work in dramas like Shine, Eastern Promises, and Music Box). Viewing these at the Goethe-Institut or on DVD from the New York distributor First Run Features, and having a facility with the German language because of my family background (Sudeten German), I developed a taste for more.
Then, surfing around online, I discovered there was an organization in the U.S. that actually archives, studies, curates and restores DEFA films; increasingly, it also releases its own English-subtitled editions on DVD for distribution in the U.S. and Canada to the retail and educational markets. I'm talking about the DEFA Film Library of the University of Massachusetts at Amherst, founded in 1993. Their home-video catalogue is impressive: 180 films, with about 10 more titles added every year. Most are long features, some are medium or short; they're just a fraction of the 7,500 DEFA films made between 1946 and 1992, yet significant all the same.
On DVD, the production and distribution of DEFA films in North America has been rather complicated: Icestorm International, a German company that's been active here since 1998, owns the rights; it produces the DVDs itself or the Film Library does (in a few cases, First Run has, too). In the past, the Film Library handled the educational market and First Run handled home-video, but now First Run is selling off what it has and won't be adding any new DEFA titles, so the Film Library is having to do it all.
As an academic institution, it's not yet quite up-to-speed on marketing to the general public. Most of the films don't even have trailers you can watch online. Over 200 films can be screened via Kanopy, a film-streaming site, but that subscription service is only available to universities and colleges. For the home-video market, the Film Library has started releasing DVD titles by annual theme – in 2014 it was art-in-film, in 2015 it's banned films. They can be purchased online through the Film Library's store, usually for about $25 or $30 U.S. per title.
Here's a quick round-up of some of the DEFA Film Library's more recent DVD releases to give you a taste. I've chosen seven from 2014 that tackle the arts in various forms – theatre, music, sculpture, painting – as well as a classic from the Weimar period that was later celebrated by DEFA for its proletarian spirit.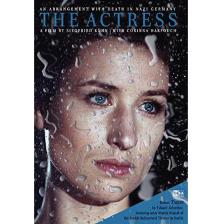 As a character, blue-eyed Corinna Harfouch makes a very good Nazi. The actress was terrifying as Magda Goebbels in Downfall, poisoning her six children in Hitler's Berlin bunker before committing suicide with her husband. But she's also a great actress, period – and in 1988 played a twist on the Frau Goebbels character, a stage star who secretly falls in love with a Jewish actor (played by André Hennicke), fakes her own suicide and assumes a new identity in order to live with him. The DVD comes with Traces, a 1989 documentary by Eduard Schreiber that's a 21-minute look at Martin Brandt, a Jewish German actor who appeared briefly in The Actress and, much earlier, exiled in America, had a significant role in Stanley Kramer's Judgment at Nuremberg. There's an essay in PDF format by American and German scholars on German-Jewish theatre, two more on director Siegfried Kühn (interviewed) and Harfouch (lauded), plus bios and filmographies.
Five Days, Five Nights (1960)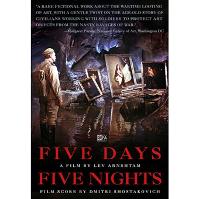 Monuments Men, meet the Soviets. Long before George Clooney tackled the story from an American perspective, the East Germans and the Russians cooperated on a joint production – their first in cinema – to chronicle the rescue of thousands of Nazi-looted paintings at the end of the war in 1945 by the Red Army. Compelling propaganda, the movie ignores what the Russians stole outright. The DVD extras are all text-based: four illustrated PDF essays on the film's music (scored by the great Dmitri Shostakovich), on history (Stalin's "trophy art" obsession, on the eventual repatriation of that art to East Germany in 1955), and on the art design (including sets, art reproductions and costumes), as well as bios and filmographies.
This lyrical Holocaust drama revolves around a Wehrmacht soldier named Walter who's stationed in Bulgaria and who happens to be a bit of an artist: he paints. This talent comes to the fore after he befriends a female prisoner in a transit camp for Greek Jews bound for Auschwitz who's seeking medical attention. Directed by the great Konrad Wolff (I Was Nineteen), the film is a brisk 88-minute walk through a black-and-white world that doesn't obscure the many shades of wartime moral grey. There are several extras to plow through on the DVD. On video, there's a 20-minute interview that screenwriter Angel Wagenstein gave in 2008, and a trailer for a documentary on him from 2012. There's a description of two of his novels translated into English, as well as text-based bios and filmographies. In PDF, there's a scholarly essay and historical background on the Holocaust in Bulgaria.
Beethoven – Days in a Life (1976)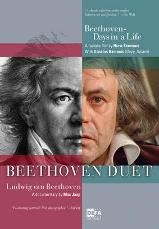 Beethoven's famously stormy life and disposition gets the bravura acting treatment in this 104-minute feature by Horst Seeman, with the Lithuanian actor Donatas Banionis (Goya, Solaris) looming large and vibrant in the title role. The film dramatizes the period from 1813 to 1819 when the great composer was writing his Ninth Symphony and dealing with all sorts of private matters, not least of which was the loss of his hearing. On the same DVD, there's a 1954 feature documentary simply titled Ludwig van Beethoven. Directed by Max Jaap and lasting 88 minutes, it's a straightforward mix of narration, archival documents and live orchestral performances. Released in 2014, the DVD's extras are all text-based: biographies and filmographies, plus, as PDFs, essays by scholars in Canada and Germany, one on the GDR's appropriation of Beethoven as its own homegrown genius, and the other on the film's memorable final scene, shot in the old streets and squares of Prague, standing in for Vienna.
They didn't shoot the piano player in this film, but the Stasi did put him in jail for an absurd reason: tickling the ivories as a last-minute substitute in a student cabaret that mocked the Communist regime. Michael Gwisdek stars with his wife, Corinna Harfouch, in this drama based on a novella by Christophe Hein that broke two taboos in East German literature: describing the dirty work of the secret police and criticizing the 1968 Soviet invasion of Czechoslovakia. The film includes a bit of archival footage of the actual invasion, but that's not its main attraction; the charismatic Gwisdek is. There are three digital extras on the DVD: a trailer; a 12-minute video conversation with the director from 2001; and a 13-minute interview Hein gave about his book for German radio in 1989 (the mp3 is German-language, but there's an English transcript in PDF format that you can click on and follow). You can also read bios and filmographies, a timeline of the Prague Spring, and a scholarly essay.
Marriage in the Shadows (1947)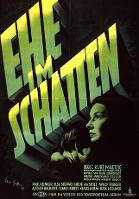 The inspiration for The Actress was this post-war docu-drama by Kurt Maetzig. It's based on the tragic lives of the married couple Meta Wolff (a Jewish actress) and Joachim Gottschalk (a celebrated "Aryan" actor), and is set in the decade after the Nazis' ascendency in 1933. Extras on the DVD include: a 10-minute video interview with Maetzig from 1999: a trailer; three PDF essays (including one by the director himself on DEFA's origins and his role in it, and another comparing his film to the 2006 Oscar winner The Lives of Others), a round-up and comment on press reaction to the film upon its release; and a timeline of Nazi "cultural policies" (aka censorship, bans and other restrictions) and how they affected the Gottschalks.
The Lost Angel (1968/1971)
Can an artist be apolitical in a totalitarian age? Expressionist sculptor Ernst Barlach tried, but he was persecuted by the Nazis where it hurt him most: They stole the elderly artist's best-known work, a "degenerate" piece called The Hovering Angel, which hung in the cathedral in his northern hometown, Güstrow. The angel's face was modelled on that of renowned socialist artist Käthe Kollwitz, and that was enough for the Nazis to make it illegitimate. Despite its theme, this moody drama about Barlach and his plight was at first banned by the East German censors for being too esoteric; it was released in a shortened (one-hour) cut in 1971. The DVD has that version and a number of extras that really flesh out the film and explain its subject: text-based bios and filmographies, ahalf-hour doc on Barlach from 2006, and, as PDFs, half a dozen essays and an illustrated book excerpt.
Kuhle Wampe, or Who Owns the World (1927)
Lastly, this film has nothing to do with art, and actually predates the DEFA age. But if you believe a piece of avant-garde propaganda for the proletariat is an art form in itself, then this certainly qualifies. Besides it's a great – a justly celebrated – movie, and it's part of the DEFA Film Library's DVD catalogue, so here's a quick look. A working-class Berlin family in 1931 is shaken by the suicide of one of its best and brightest, a young man who, like millions of other Germans, was driven to despair by unemployment. The family retreats to Kuhle Wampe (literally, Cool Belly), a lakeside camp outside the city, before headstrong daughter Anni heads back to town to join a workers' youth movement. Impressive to look at, the film is a real slice of pre-Nazi socialist life, and the DVD has plenty of extras to enjoy. A companion DVD (sold separately) called Kuhle Wampe – Censored!, an hour-long 1975 docudrama, re-enacts scenes cut from the original by the Nazis and interviews some of the actors who participated.
Backstage: Three by U.K. indie label Arrow Films
Arrow Films, an British independent distributor based in Shenley, north of London, has been around since the early 1990s and for the past several years has been drawing attention for its restoration and release on home video of classic world cinema titles, excelling especially in movies that have a touch of the spiritual, the macabre, the horrible and the dreadful. Most of their DVDs and Blu-rays are region-locked for the European market only, but enthusiasts in North America who've invested in all-region players (or hacked one of their own), have long found a a way to get around that, just as they have for the standard-bearer of British indie labels, Eureka's Masters of Cinema series. At home, I've enjoyed region-locked Arrow titles ranging from Bertolucci's The Conformist to De Sica's Miracle in Milan to the recent Norwegian prison drama King of Devil's Island. I've also been impressed by some all-region product that Arrow has put out: De Sica's The Garden of the Finzi Contini, Marcel Ophuls' war documentary The Sorrow and the Pity, the 1969 horror triptych Spirits of the Dead (short films by Fellini, Malle and Vadim), and Clouzot's Les diaboliques. Lately, I've screened Blu-rays of Preston Sturges' classic road movie Sullivan's Travels and one guilty pleasure called Porky's, a teenage sex romp that was a surprise hit in 1982 (and was co-produced by Montreal's Astral Films). The three new Arrow titles below, all region-locked Blu-ray editions, have a common theme: life behind the scenes at the theatre (or cinema). Like all Arrow titles, they're reasonably priced and can be easily ordered through sites like amazon.co.uk.
Cinema Paradiso (Italy/France, 1988)
Set in Sicily and the Oscar winner for best foreign film in 1988, Giuseppe Tornatore's paean to the power of cinema and friendship (between a projectionist, played by Philippe Noiret, and his young disciple Toto, who becomes a film director) has had a complicated history both on the screen and on digital media. It's been released in three cuts – 124, 155 and 177 minutes – and many more home video editions. On Blu-ray, Arrow's new special edition is by far the best and most complete. Expanding its 2010 BD for the movie's 25th anniversary, the distributor has come out with a two-disc package that features new restorations of both the two-hour and the extended director's cuts of the film. Each looks beautiful, sounds great (especially Ennio Morricone's score) and the extras easily best the bare-bones American Blu-ray that Miramax distributes here in North America. Tornatore provides an audio commentary track; there's an hour-long doc on the director and seven extra minutes of him discussing the film's kissing scenes, with clips; there's a half-hour look at how the film came to be, featuring the various actors who play Toto and Tornatore himself; two trailers; and a nice little 30-page booklet in the digipak's sleeve, all wrapped up in a nice-looking, full-colour cardboard slipcase. Impressive.
Phantom of the Paradise (U.S., 1974)
Die-hard fans of Phantom of the Paradise, Brian De Palma's cult horror musical from 1974, have long awaited a high-definition video release of their favourite film, best described as an "inspired rock 'n' roll fusion of Faust, The Phantom of the Opera and The Picture of Dorian Gray," and soon they'll have a choice of two special editions. They can wait until early August for the Blu-ray coming from U.S. distributor Shout! Factory, or, if their player can handle a region-locked release from Europe, they can order the Blu-ray that Arrow Films released back in February in both regular and steelbook editions. The British package looks great (though skewing to over-dark, some say, which might be appropriate given the genre), the score (by the film's blond moptop star, Paul Williams, who got an Oscar nod for the music) sounds even better in lossless audio, and for extras, there's a 40-page colour booklet plus a whole lot more on the disc itself: an isolated music and effects audio track, a 50-minute making-of with cast and crew; a new 72-minute interview with Williams by director and fan Guillermo del Toro (Pan's Labyrinth); some alternate takes and bloopers, more interviews, a trailer, radio spots and more.
Theatre of Blood (Britain, 1973)
Revenge is a dish best served ... gory. In this 1973 black-comedy horror classic, Vincent Price stars as a ham Shakespearean actor named Edward Lionheart who gets back at his critics by murdering them, one by one, in macabre recreations of scenes from the Bard's plays (taking Shylock's "pound of flesh" quite literally). Jack Hawkins (The Bridge on the River Kwai), Robert Morley (Who Is Killing the Great Chefs of Europe?) and Diana Rigg (The Avengers) co-star. The Arrow Blu-ray looks remarkably clean and bright for a picture of this vintage, the audio is perfect in lossless, and extras include a witty audio commentary by the British comedy quartet The League of Gentlemen; interviews with Price's daughter, Victoria, film historian David Del Valle, actress Madeline Smith and composer Michel J. Lewis; plus a trailer and a booklet. Arrow has also produced a nice-looking steelbook Blu-ray edition of the film. And if you think Price does the horror genre proud, check out Arrow's new two-disc boxset (again, region-locked) of The Abominable Dr. Phibes and its sequel Dr. Phibes Rises Again.
Rollerball (Britain, 1975)
Who doesn't like a good f**-the-system movie? Two British-made movies from the turbulent decade of the mid-1960s to mid-1970s, now out on Blu-ray, do just that: They tilt against the windmills of authority, and in the end topple them. The first, ... if, directed by Lindsay Anderson and starring Malcolm McDowell in his screen debut, is a social satire that takes place in a British boarding school for boys; it won the Palme d'or at Cannes in 1969. The second, Rollerball, directed by Canada's Norman Jewison and starring James Caan, is a 1975 action movie set in Houston in the far future (well, 2018) when a roller-derby-type sport called rollerball is all the rage. Both films are still provocative today: ...if, because of its flogging (see the clip above), bullying and verbal abuse, and a gunfight at school that leaves dozens dead; Rollerball, because of its all-too-contemporary critique of mass-media spectator sports whose violence is left unchecked (and you thought NHL hockey was rough). ... if was issued on North American Blu-ray in 2012 by Criterion, but the new edition from Britain (in Eureka's Masters of Cinema series) adds some valuable new extras: over two hours of interviews with cast and crew, three short films by Anderson (Criterion had only one), and a 56-page booklet; the disc is coded Region B, however, so you're out of luck if you don't have a hacked or all-region player. The special features on Rollerball, licensed from MGM and issued in a 3,000-unit limited run by California's Twilight Time, were previously available only on the UK special-edition DVD: commentary tracks by Jewison and scriptwriter William Harrison, a making-of and a featurette, TV spots and trailers (you also have the option of an isolated audio score, which is new); there's no trailer for the 2002 remake of Rollerball, which would have provided some comic relief (it was pretty bad, apparently).
A road movie from the golden age of Italian comedy
Il sorpasso (Italy, 1962)
Getting ready for a road trip through Italy this summer, I figured I couldn't go wrong by watching a movie about ... a road trip through Italy. This one, Il sorpasso, also happens to have been released the year of my birth, 1962. I'd never seen it before, but it's considered a cult classic of commedia all'italiana, a genre whose golden years at the end of the 1950s and early 1960s produced such gems as Divorce Italian Style, Big Deal on Madonna Street and Il boom. Il sorpasso was directed by Dino Risi and stars Vittorio Gassman and French actor Jean-Louis Trintignant as a pair of mismatched acquaintances – one macho, the other shy – who are thrown together by chance and get into a series of misadventures over two days and two nights between Rome and the shores of Lazio and Tuscany. Think of it as The Odd Couple on wheels, or the granddaddy of that Napa Valley buddy movie Sideways, or a less formulaic and decidely darker precursor to Planes, Trains and Automobiles. Gassman does all the driving (appropriately enough, with a name like that), and it's a fine automobile, too, a Lancia Aurelia convertible. It's August; the city is dead and the countryside beckons; the traffic is a challenge best met with speed (sorpasso means overtaking the car ahead); the girls are pretty and willing; the music playing in every roadside café and beach restaurant is the Twist. But this is no superficial romp à la Elvis or Fabian; there's a discontent that eats away at these characters like rust on a chassis and a cynicism about Italy's post-war economic boom that gives the picture a tears-behind-the-laughs fatalism that's hard to ignore. Now finally given a new digital transfer that honours the material, Il sorpasso comes to home video in a dual Blu-DVD edition from American speciality label The Criterion Collection that has optional English subtitles and is packaged in a nice cardboard slipcase. The numerous extras include a 36-page illustrated booklet, an hour of interviews and nearly two hours of documentaries on cast and crew.
A look at the U.S. boutique label Twilight Time
Twilight Time is a speciality label based in Valencia, Calif. whose cachet is their limited-edition (3,000 copies) runs of classic and neglected movies on Blu-ray. Prized by collectors, these discs don't usually have much in the way of extras, but they do feature high-quality transfers and the option of hearing each film's score in isolation (free of dialogue and effects). They're only available for sale at ScreenArchives.com. Here are some new releases that I've screened and liked.
Rita, Sue and Bob Too (Britain, 1987)
This British social comedy from the Thatcher era stars a familiar face, Siobhan Finneran, in her feature film debut. Today the actress is much better known for her role as the tenebrous and scheming ladies' maid O'Brien in the hit TV show Downton Abbey. That's her above on the right, as Rita, opposite co-star Michelle Holmes, as Sue – "two tough, deprived girls from the worst part of town," as Roger Ebert put it in his review at the time (though in this screengrab they do look like a couple of merry suburban housewives). I link to YouTube – which has the full movie, for free – only to show you why Blu-ray is far better: The YouTube upload is fuzzy (low-res) and in the wrong aspect ratio (vertically stretched). Twilight Time, under licence from Britain's Film Four International, has done a nice job keeping the image crisp and properly sized, and have added some bonus material: an audio commentary by two film historians (Julie Kirgo, who's American, and Twilight Time's Nick Redman, who's British), an isolated music-and-effects track, and a six-page booklet with stills, posters, a collage and an appreciative essay by Kirgo. Subtitles on the feature would have been helpful, since the working-class Yorkshire accents are sometimes hard to cut through, but they aren't essential. The movie's story is simple enough: two wild high-school girlfriends have an affair with a horny married man named Bob (George Costigan), then have a falling-out over who should get him all to herself. The comedy is that the lothario is a rube and the girls are wiser than their years. The script, adapted from two of her stage plays by Andrea Dunbar, is gloriously colourful ("When we have sex, it feels like shagging a bag of spuds," Bob complains to his long-suffering wife). And the sex is, despite the conservatism of the era, entirely unabashed (hence the 'R' rating). Good fun, though by no means clean. Things get a bit ugly after a jealous Pakistani boyfriend gets involved, but that makes the happy ending all the more welcome. "It's better than Match-of-the-Day, this!"
Equus (Britain/U.S.,1977)
Unusually, Sidney Lumet's 1977 adaptation of the acclaimed Broadway play by Peter Shaffer is packaged here with a significant special feature: a two-hour TV documentary from 1988 on the movie's star, Sir Richard Burton. It alone is worth the price of admission, IMO; lots of reminiscences from family and friends including Sir John Gielgud and Elizabeth Taylor. (The 2003 DVD from MGM had only a trailer). The movie – about a sexually troubled young English stablehand (Peter Firth) who, after a horrific crime, is put in the care of a psychiatrist (Burton) – clocks in at nearly two hours and 20 minutes, and though it's slow-going early on it picks up pace in the second half to a climactic finish. One big surprise comes in the end credits: The whole thing was filmed in Toronto. A six-page glossy colour booklet accompanies the disc.
Best picture of 1949 at the Oscars, this drama about political ambition and corruption stars Broderick Crawford as Willie Stark, a Huey Long-type southern populist ("I don't need money – people gives me things because they believe in me") who rises from county treasurer to governor before he meets his fate by an assassin's hand. The movie was adapted from Robert Penn Warren's novel and directed by Oscar-nominated Robert Rossen (Island in the Sun, The Hustler). On the disc there's a trailer and isolated score but no other extras; a small booklet completes the package. I recommend this original version of the movie over the 2006 remake that starred Sean Penn and Jude Law (available on DVD and Blu-ray), but you might want to screen both to make your own comparison.
Colin Firth is a loveable charmer in this soccer movie gussied up as a romantic comedy. Nick Hornby (High Fidelity, About a Boy) adapted his memoir for the script. It's about an English teacher (Firth) who's a passionate fan of the Arsenal Football Club and who starts having an affair with a colleague just as his team starts recovering from a very long losing streak. Will love conquer all interruptions? Insert sports metaphor at will. The movie's Britpop soundtrack is a big plus, opening with The La's jangly "There She Goes" and going right on through to the Pretenders, the Pogues, Fine Young Cannibals, Van Morrison and The Who. Besides an audio commentary, the only extra is a trailer, just like the DVD back in 2001. The movie was re-made in Hollywood in 2005 as a baseball rom-com (the title works the same) with Drew Barrymore and Jimmy Fallon.